100% Best Price Guarantee
Find a lower advertised price from another online site or a local retailer within 1 Year from the date of your purchase for the same product / service / workmanship, and we'll refund 100% of the difference.
You save on an average 40% when you buy from us compared to the local monument shops.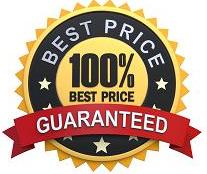 Our prices are on an average at least 40% lesser than the local funeral homes, cemeteries and monument shops. We are so confident about our best prices that we offer industry first 100% Best price guarantee. If you find a better price on any comparable product anywhere else we will refund you the difference ­ Not just now but for upto 1 year from the date of your purchase.
Buy from us not just for the unmatched low everyday prices but also for the largest product selection available, uncompromised quality, no hassle straight forward buying process and the best customer care experience.
Headstonemonument.com
(800) 903-7866